Electrical Installation Condition Reports (EICR)
How often is electrical testing required? 
The frequencies for EICR as recommended by the wiring regulation BS7671: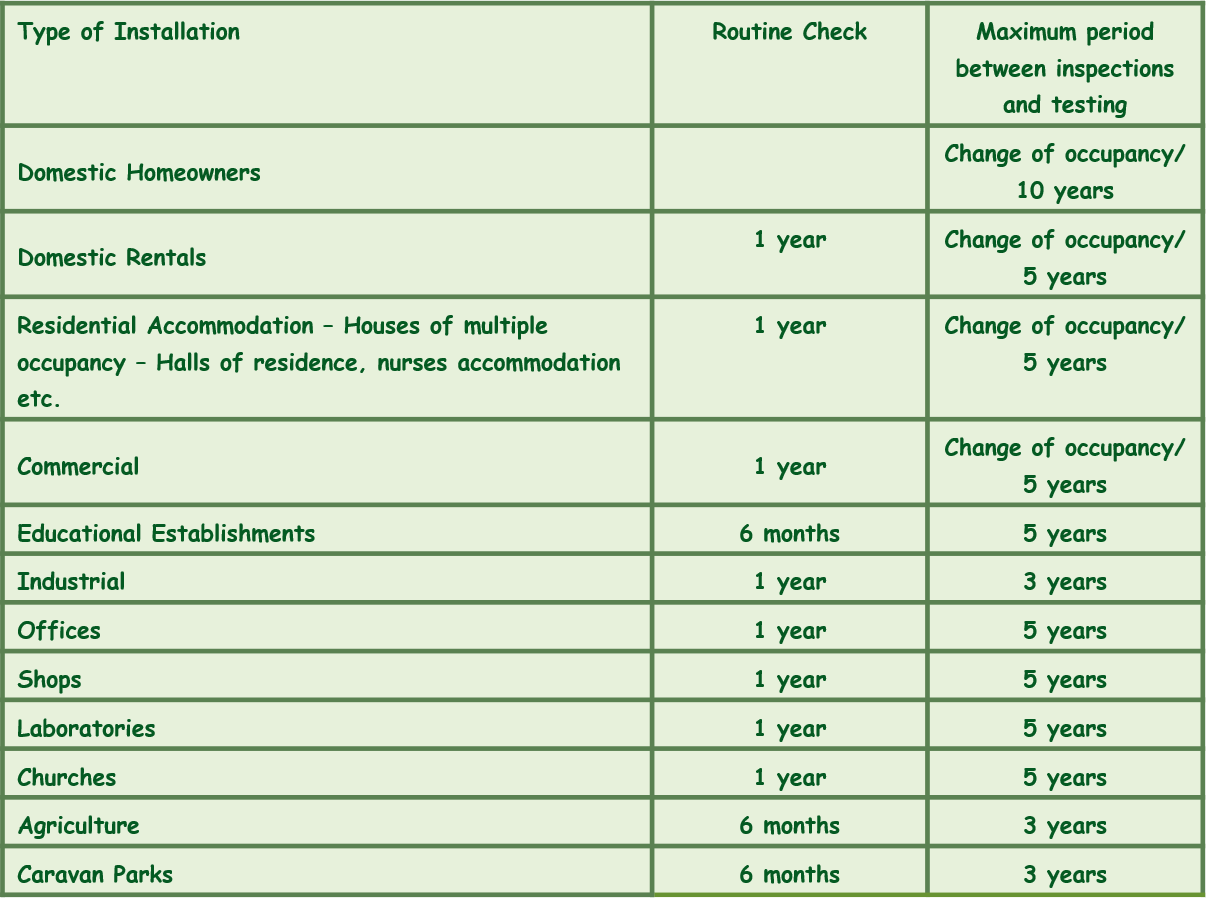 For a full list of inspection intervals please click here.
Other times when an EICR should be carried out are:
Change of use of premises
When a property is being prepared for letting.
Before selling a property or buying a previously- occupied property.
To assess compliance with current wiring regulation BS7671 18th edition.
To assess that the installation is not damaged or deteriorated so as to impair safety.
After alterations or additions to the original installation.
Because of any significant change in electrical loading of the installation.
Where there is reason to believe there is damage to the installation.
To provide an important record of the installation at the time of the inspection, and make a recommendation for when the property needs re-testing in the future.
Electrical Inspection & Testing – What to expect during electrical inspection & testing for an EICR
We will arrange a time suitable to you for the electrical inspection to take place. A domestic test can typically take 3-4 hours to complete, depending on the size of property and number of circuits that need testing. The inspection will include:
Visual inspection of the electrical installation to check for defects.
Testing of a range of samples to check against regulations, safety conformity and wear and tear. As a minimum we would test 20% of circuits*.
Assessing whether electrical circuits or equipment are overloaded.
Finding any potential electric shock risks and fire hazards.
Identifying any defective electrical work.
Highlighting any lack of earthing or bonding.
During the testing, if we find any dangerous items, they will immediately be brought to the attention of the on-site contact.
*At Norcroft we complete a fixed cost EICR which will test every socket, cooker, shower and immersion heater circuit and at least 20% of the lighting circuits. 20% is up to the discretion of the electrician carrying out the test. If the test sample shows poor results further investigation will be needed.
How can you prepare for an EICR at your property?
We will ask you to do the following before our electricians arrive on site. This will help reduce the time taken to carry out the inspection and allow us to get on with the job with minimal disruption to you:
Ensure all switches and sockets are easily accessible.
Turn off all electrical appliances throughout your property.
Please ensure everything such as fridges & freezes have been turned back on before the electrician leaves the property.
Please note. The power will be turned off for an hour or two during the inspection.
What Happens After the Inspection?
After the inspection, the electrician will complete the Electrical Installation Condition Report (EICR) which details all the findings from the inspection and recommend any remedial action required if electrics have been deemed 'unsatisfactory'. Any damage, deterioration, defects, dangerous conditions, non-compliance with BS7671 wiring regulations that give rise to danger (either risk or injury to person or livestock) will be recorded on the report & classified C1-C3:
C1: Danger present, risk of injury, immediate remedial action required.
C2: Potentially dangerous, urgent remedial action required.
C3: Improvement recommended.
F1: Further investigation required without delay.
If any electrical faults are found, we will quote to carry out the necessary works which will include a retest after the work has been carried out to obtain a satisfactory electrical certificate. For an electrician to be able to deem the report satisfactory all the code 1 & 2s must be rectified.
Related articles:
Electrical safety for landlords
Electrical Safety Around the Home 
Electrical Installation Certificates (EIC)
The electrical installation certificate is used only for the initial certification of a new circuit or circuits. The certificate provides a formal assurance that the installation complies with the requirements of the national standard for electrical safety and should be issued before the new installation is put into service. Some basic examples where this certificate would be used are:
Following a re-wire
Following an upgrade of the mains unit
Following the installation of a new circuit (i.e. smoke alarms)
This certificate recommends when the installation is to be tested again and a full periodic inspection and test should then be performed at this date. When the domestic electrical installation certificate expires it should be passed on to the electrical contractor doing the periodic inspection as a point of reference. This will save time for the inspector.
Minor Electrical Installation Works Certificate (MEIWC)
Minor works certificates are only issued when there is an alteration or an addition to an existing circuit and does not include the wiring of a new circuit. A few examples that fall within its scope are:
Adding a socket to an existing socket circuit
Carrying work out on an existing lighting circuit, including altering any existing switching arrangements and /or an additional lighting point.
Need some help? Get in touch
Frequently Asked Questions
What do you mean by an electrical installation?
Any fixed appliances, wiring to sockets, lights, fittings, meters or other apparatus.
How often is a periodic inspection required?
Your electrics should be inspected every 10 years for an owner-occupied property, and every 5 years for a rented property. It is also recommended that an electrical inspection is carried out when a property is being prepared to let, or when you are selling or buying a previously-owned property.
How long will the inspection take?
This depends on a number of factors such as the size of your property. An average home would take approximately half a day (3 -4 hours) to complete. This includes compiling the report on our system.
Will we be without power during the inspection?
Yes the power will be turned off for an hour or two during the inspection. Our electricians will advise you of the likely time when they arrive.
What happens when the next report is due?
The EICR is valid for 5-10 years, depending on the property type, and we will compare the original EICR document to the new report to see if there are any areas of deterioration.
What happens if a potential danger is identified?
We will make you immediately aware of any potential dangerous at the time of discovery. An agreement will be made with you as to the appropriate action to be taken to remove the source of danger eg. by switching off and isolating the affected part of the installation until remedied.
What are my responsibilities as a landlord?
It is your responsibility to ensure electrical safety of a rented property. The electrical installation of the property should be certified safe from when a tenant moves in.