Electric vehicles are now becoming a more common sight within UK businesses. UK Government ministers have stated that they are committed to making the UK a "world leader in the electric car industry". The significantly lower running costs and 'green' ethos of an electric car compared to a petrol or diesel vehicle make choosing electric cars for your fleet a viable option.
Looking to offer your employees or customers Electric Car Charging Points?
Businesses looking to install commercial car charging points must first decide on their intended usage.
A range of units are available, from standalone free-to-use non-communicating units, to communicating systems with connected back-office platform for management and billing purposes.
Charging Infrastructure
There are a wide choice of access options and network schemes available for you to choose from: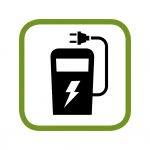 Free to use
Any person with a compatible charging lead can simply plug in and go.
Keyswitch
Provides you with an element of control as users will need a key to start the charging process.
Token or Coin
This is a pre-paid method, where users are issued with a pre-paid coin for use.
RFID/ Smart Phone App
Charging sessions are initiated by either a RFID card or Smart Phone App. Businesses can control usage with an internal monitoring system.
Bank Card Access/ PAYG
Charging sessions are initiated by a credit or debit card at the charging point and work in a similar way to car parking machines.
The workplace charging scheme is a voucher scheme that provides support towards the costs associated with purchase and installation of electric vehicle charging points.
Workplace Charging Scheme
As of the 1st April 2020, the workplace charging scheme from The Office for Low Emission Vehicles (OLEV) grant offers £350 per socket and sockets have increased to 40 – read more.
Companies can benefit from electric car charging points. If your company has access to electric vehicles you can apply to take advantage of this grant to improve your workplace facilities.
We have fitted many electric vehicle charging points for businesses across Yorkshire. Norcroft Energy are approved installers for Rolec and EV Box.
How does the application process work?
Applicant completes the Government application form. To apply for the grant, you must complete the application form via the online portal. You will be contacted within 5 working days and informed whether your application has been successful.
If application is successful, your OLEV Unique Voucher Code is generated. The voucher is valid for 120 days from date off issue.
Contact an OLEV approved installer – Norcroft Energy who are approved OLEV-authorised WCS installers and can install your commercial car charging points.
Installer completes a site survey to advise on the most appropriate locations for your car charging points.
Installer completes the installation
Installer submits claim on the OLEV portal
On receipt of the required evidence, installer receives grant.
If application is successful, your OLEV Unique Voucher Code is generated. The voucher is valid for 120 days from date off issue.
Who is eligible to access the grant?
Any business, charity or public authority is eligible to claim the grant towards the cost of installing electric vehicle charging points providing they have dedicated off street parking for staff.
The contribution payable by the customer will be subject to a site specific survey / site conditions / location / OLEV Terms & Conditions.
Please click here to view OLEV's full Terms & Conditions
Need some help? Get in touch
Frequently Asked Questions
How do I arrange for a chargepoint to be installed? 
As approved OLEV-authorised WCS installers Norcroft Energy can install your commercial car charging point. Once you have applied and received your voucher, simply contact us on 01226 763127 to discuss.
Do I have to pay upfront for the charging point? 
No. The installer will claim the value of the voucher on your behalf. This amount will then be deducted from your final invoice.
What is the typical cost of an installation? 
All commercial car charging installations will require a pre-installation site survey. Once the pre-installation site survey is complete we will provide a full specification quote detailing the full cost of installation.
For more information about the Workplace Car Charging Scheme visit the governments website here or contact us today on 01226 763127.